How to find your child's size
Measure your child without clothes.
Follow the chest width to the upper part and follow the waist and hip width to the lower part.
Find the size in the table below and read the size that fits best.
All clothing is added range of motion.
How to measure your child
Height Place the child up against a wall with gathered legs and measure from the top of the head to the floor.


Chest width Measure around the breast, just below the armpit where the baby is widest. The child should stand with his arms down along the side.


Waist width Measure around the waist, the narrowest place on the upper body. The child should stand with his arms down along the side.


Hip width Measure around the hip, the widest point on the buttocks.


Inner leg length Measure from the crotch and down along the leg to the floor.


Head circumference Measure around the head, at the widest point. The target is taken very close to the head.


Wrist circumference Measure the circumference of the wrist just before where the hand starts.


Foot length Measure the length from the heel to the tip of the big toe. The child must stand up so that the weight is distributed correctly on the foot, place if necessary. the child's foot on top of the measuring tape, it is easier to read. For the child to have a little to grow in, you must add 1½ cm to the measuring net.
Pictured above is Mille. She is 6 years old and not that big of her age.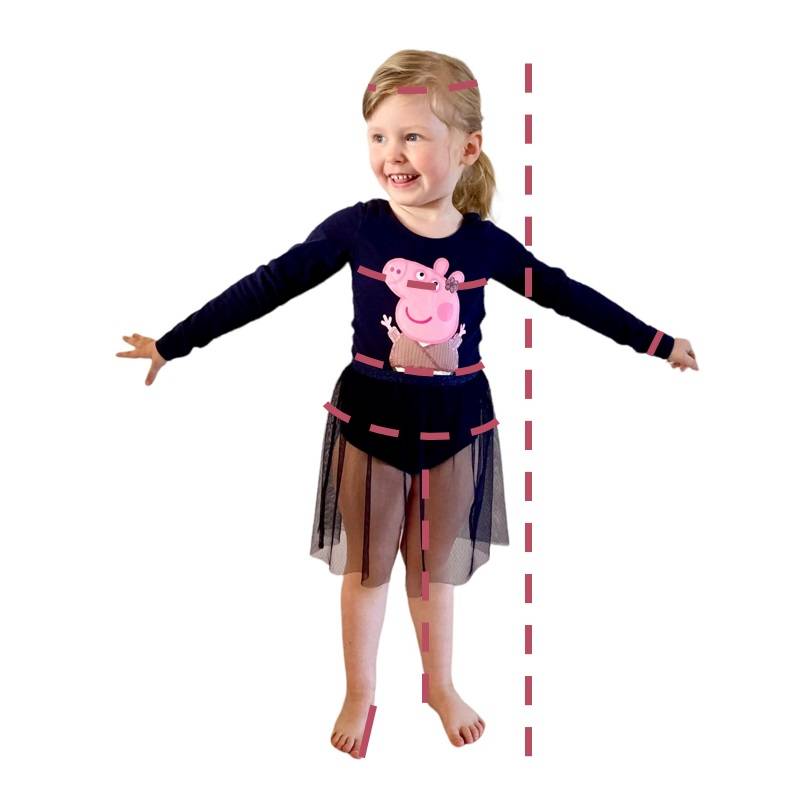 Pictured above is Nanna. She is 4 years old and she is normal size of her age.
Use our size guides on this page, and we will have the same starting point
If you are in doubt about the sizes, you are welcome to contact our customer service.